RMA Plastik, one of the three biggest Turkish roto-m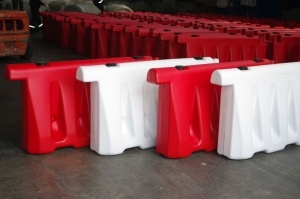 olding company, has invested in 2000 lt capacity blow molding machine in order to start mass production of water fill polyethylene road barriers. With mass production and reduced costs, RMA offers competitive pricing and high quality road barriers and esports water fill barriers to all around the world.
Accordingly, RMA Plastik has started to produce double layer water tank up to 2000 liters. Thanks to blow molding technology, RMA Plastik has started to mass produce water tanks and consequently increased its production capacity, reduced its costs and offers more competitive priced water tanks with fast delivery terms.
Establishing distributorships in Europe, USA and Middle East
Rma Plastik aims to increase its local and international market share by granting agencies to trading‬ companies world wide. Bekir Avunduk, the general manager of RMA Plastik has stated that "we aim to increase road barrier sales 40 % in 2017 by granting agencies in Middle East and Europe. We provide products with higher quality terms than Asian competitors, on same competitive pricing terms. Moreover, Turkey is advantageous in shipments to Europe and USA in terms of delivery term and cost. In line with our above mentioned targets, we have strengthened our export team."
Custom Molded Road Barriers
General manager Avunduk stated "We design and produce custom road barriers in line with customers' demands and requests. Our young and dynamic design team helps customers in designing the plastic traffic safety equipment in their mind. In line with different traffic safety requlations and customs in different countries, we produce and design different shape, color and size road barriers. With our more than 15 years expertise, we bring innovative products into life".
In line with different technical requirements of customers, we produce blow molded and roto-molded road barriers. We offer many different design road barriers, for different purposes.
Cheap Plastic Road Barriers
Some of our traffic safety products are; water fill barriers, go-cart barriers, crush barriers, plastic fences for events, plastic jersey barriers, highway safety barriers, event crowd control, construction safety barriers, traffic barricades and safety plastic drums, plastic channelizer drums, folding barricades, crosswalt barricades, plastic airport barricade, cable barrier, water wall, jersey style plastic barrier, taxi way barricades, plastic pedestrian barriers, demarcation barrier, stackable barrier, warning signs,